ARE YOU GOING TO CHANCE TAKING YOUR TEXAS CDL TEST WITHOUT IT?
URGENT: WE HAVE THE REQUIRED TEXAS SECTION 14!!!
ALL NEW TEXAS 2015 EDITION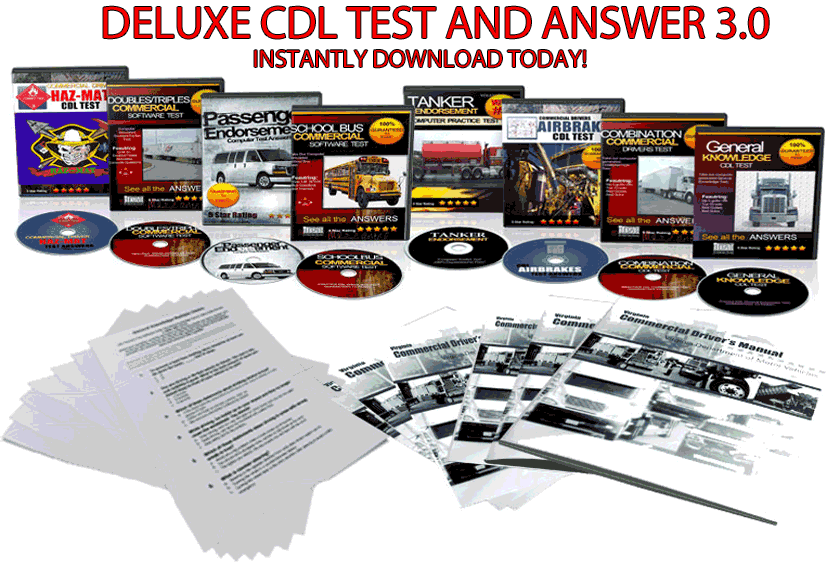 "PROVIDING CDL PRACTICE TEST SOFTWARE TO THE STATE OF TEXAS FOR 7 YEARS IN A ROW"
"Take Just 6 Minutes To Read This Page And We Will Cut Through All The Bull And Show You How We Have Helped Others Pass the CDL Test!"
PROVIDING CDL PRACTICE QUESTIONS & ANSWERS SOFTWARE SINCE 2006!
144MB DOWNLOAD ON A DEDICATED SERVER!
"This software provides a simulation of the TEXAS CDL Tests!"
"SOMETIMES THE CDL MANUAL JUST ISN'T ENOUGH"
YOU WILL BE ABLE TO HAVE ACCESS TO YOUR VERY OWN CDL PRACTICE SOFTWARE IN MINUTES AFTER PURCHASE!
Dear Future (or Current) CDL Driver:
We understand that for many of you test taking may not be your strong point. You may have struggled with test-taking your entire life or it may be that you already have your CDL License and now need to retest in order to renew it having forgotten much of what you learned in order to pass it the first time. There are a variety of reasons that you may require you to take a CDL test:

To keep your job. (Even though you have bent over backwards for them.)

To get a job because you are unemployed.

To renew your CDL License.

To add an endorsement.. (Hazmat, Doubles/Triples, Tanker, Etc...).
Whatever your reason for landing here, we want you to know that we are here to help! We have been helping people just like you everyday for the past 7 years. Many have failed the CDL Test and are in a panic on where to turn. We TRULY believe that the solution to your problem is just minutes away and is available for less than most dinners for 2 at a restaurant.